We'll take you on a journey around the world and through the ages
We'll take you on a journey around the world and through the ages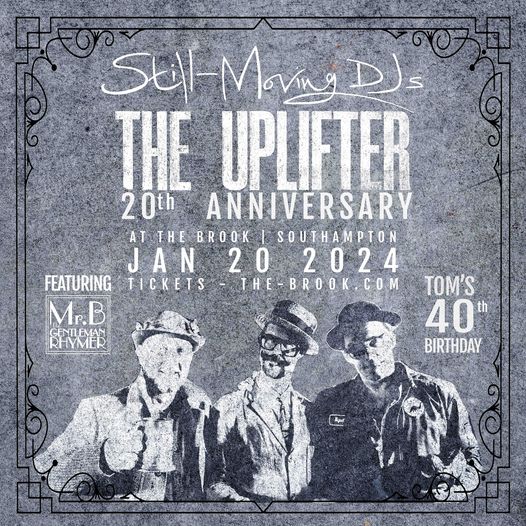 This, friends, is going to be an absolute BEAST of a show and will almost definitely sell out!
Still Moving DJs + Tom's 40th birthday + The Uplifter + special guest Mr.B The Gentleman Rhymer
"Thank you so much, Martin and Tom, for making a great evening magnificent. Having re-booked you after a previous party, where you were brilliant too, you certainly did not disappoint. This party should have been a year ago and with lock down extended it was delayed again at short notice and you were so flexible and reliable and we are so grateful.
Your music keeps everyone on the dance floor (all ages) and is fun, bright and often quirky – we love it."
 – Polly, Ben & Charlie
"Gentlemen, Where do I begin?  …We cannot express our thanks enough. You guys made it, and the dinosaurs too of course. Seriously though, you guys were beyond what we hoped for. So many people have said how much they liked it all, which was visible from all the (sometimes crazy & odd) dancing! You were simply and utterly superb. We look forward to seeing you again."
 – David & Suzie
"Apparently you were terrific"
 – Someone who missed us at a festival!