Technical Requirements
While we're not divas, there are a few essential things that we require in order to give the best possible performance, along with a couple of things we request.
Please feel very welcome to contact us if you have any further questions or would like any advice or suggestions on anything from lights to props to themes.

DJ Sound System
2x Turntable – (Technics 1200 or 1210 etc, with cartridge)
Space for 2x Laptops/controller doodahs
(*please note – the diagram below displays CDJ's, but these are no longer required)
1x DJ mixer with 6 inputs (2x phono, 4x line and 2x mic)
Amp(s) / Speakers / bass bins – nice and juicy with high quality sound! (think 'festival', not wedding disco!)
2x microphone and stands for live percussion wired to DJ mixer so we can control levels
1x Monitor for percussion
2x 4 way extension leads in addition to what is required to power the above (and for anything else we may need to plug in!)
Tables
– 1x Main sturdy DJ table – for the record decks / mixer / heavy kit etc. (approx 6ft / 1.8m width).  Festivals: DJ table on wheels helps for quick transition.
– 1x Small table – for Martin (standard height – roughly about 2ft x 2ft surface dimensions)
– 1x Small table – for Tom (similar spec as Martins)
– 1 small but sturdy table for projections laptop (if required – not always used)
Stage Layout – DJ desk on stage next to the percussion as illustrated below (percussionist also selects records and needs access to mixer!)
Full Sound Check – The system will need to be fully rigged in good time so we can do a full sound check at least an hour or two before the opening of the event (times to be confirmed)
* Please fully test equipment before the event… especially the Mixer and Amps/speaker phasing etc! (Sorry we need to mention this – we've learned the hard way in the past!)
* Don't worry – we supply the percussion and gramophone players!
Sound engineers and venues are very welcome to contact us directly if any further information is required.

Visual / Lighting
Lighting – Red static (not flashing) – No bright/white spot lights, strobes or flashing or rotating lights / 'disco' lights. Visual is very important to our work, but as a guide as a guide please go for 'Jazz Club / Cosy Tavern / vintage / festival' (not 'wedding disco' / 'night club'). (we don't mind fairy lights, oil lanterns, candles, or unusual/quirky etc.)
No lights directed on Projector Screen.  If we're using projections it's very important to make sure that no lights are on the projector screen not any light directed onto is (or you can't see the projections).  (yes it's happened!)
1x Data Projector & screen, or LCD screen (rear projection)

Diagrams of bits and bobs
DJ table layout
(Please note – we no longer use CDJ's – so ignore this requirement, but please leave the space on the table for a couple of laptops)

*Please note:  we no longer need CDJs, so imagine this diagram with laptops and DJ controllers instead!
Stage layout – Front View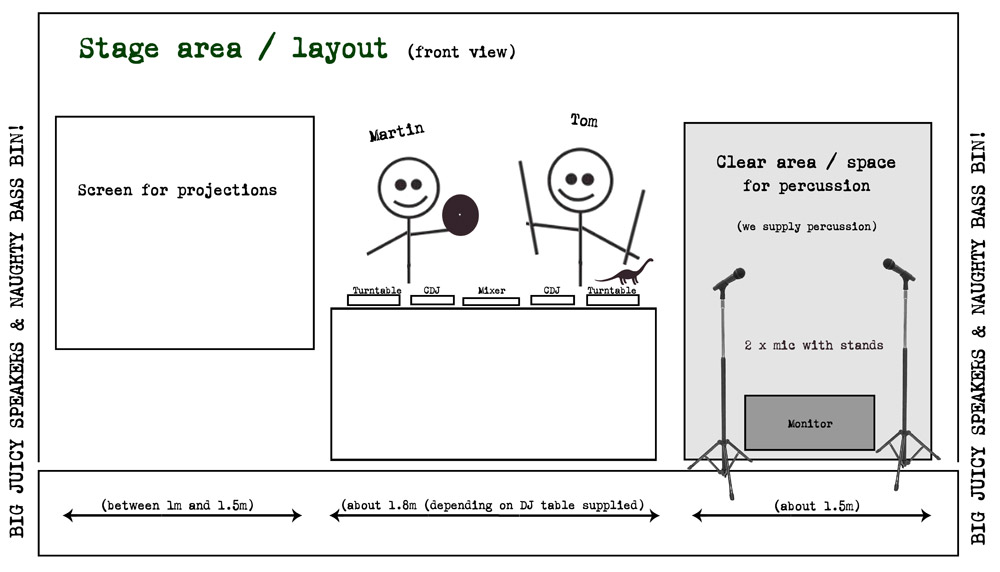 Stage layout – Top View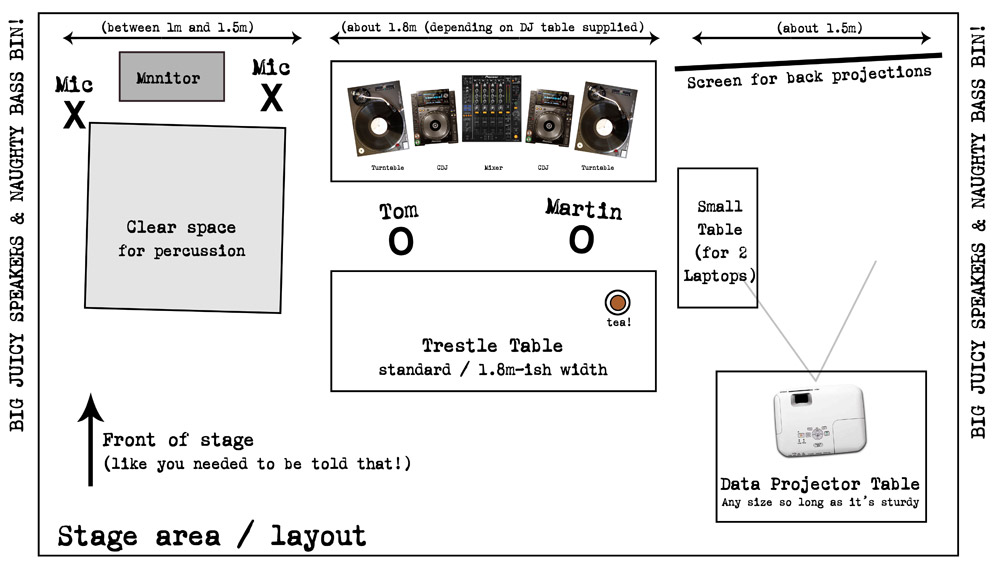 Notes
If possible to adjust stage height –2.5 ft max ideally (we don't want to be too unsociable and away from the lovely people!). Please make sure it's not bouncy – it makes our records skip!
If possible with space for accessing and parking two vehicles behind.
We supply percussion
The measurements are approximate and have to be specific width of stage – this can be wider with room for band to left for other performers. If the Projector screen is movable, and not used until it gets a bit dark so this would be an ideal place for other performers.
If you have the luxury of being able to provide two LCD screens for either of the stage, then feel very welcome (it's happened before and looks great)

And finally – a letter for sound engineers!
Dear Sound Engineers
Many thanks for all your hard work, and we look forward to teaming up with you soon. Please forget everything you know about normal DJs – we're far from normal!! We'll be arriving a few hours prior to the event to set up percussion and sound check etc. We have various props to set up once you've completed the main technical set up (don't ask!).
We sincerely hope that you appreciate our stick-men drawings too – lots of thought were put in to them!  Please feel very welcome to get in contact if you need any further information.
Best wishes 🙂
Martin & Tom