Calendar (the most rubbish page on our website due to Covid-19!)
This page was once nice and full!  We have some dates booked for 2021 (mostly postponed from 2020), but because of the uncertainty and need for being flexible with dates we've not listed them here.  If you have a booking with us and need to change the date, please contact us.
Hopefully we'll all be back on track very soon, so watch this space.  Until then, stay safe xx
Here's a painting of us as dinosaurs riding a steam boat!
...just so you've not completely wasted your time by opening this page.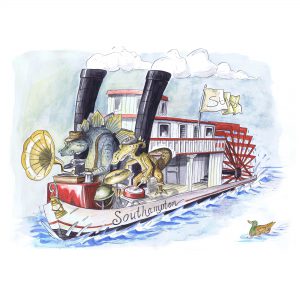 Please contact us about availability - not all booked dates are listed here. (we may have booked time off to polish the model dinosaurs!)
2021