We naturally prefer to provide the collaborated 'Full Works' with the both of us in full swing at shows – On the odd occasion though there are times where only one of us is available (Martin's probably fixing a vintage car and Tom is riding on a dinosaur off into the sunset).
Our individual performances still have that special atmosphere about them. The music we play while performing as independent DJs is still of the 'alternative' style and carefully selected as detailed on our home page, and still with the classic Still-Moving format, vintage set-up, antique ship lantern lighting and attire (… and dinosaurs!!). The disadvantage (for us) is that there's more hard work involved, so there may be a little more tea required! The advantage is… that it's cheaper for whoever is booking us! Please see the bottom of this page for prices and how to book.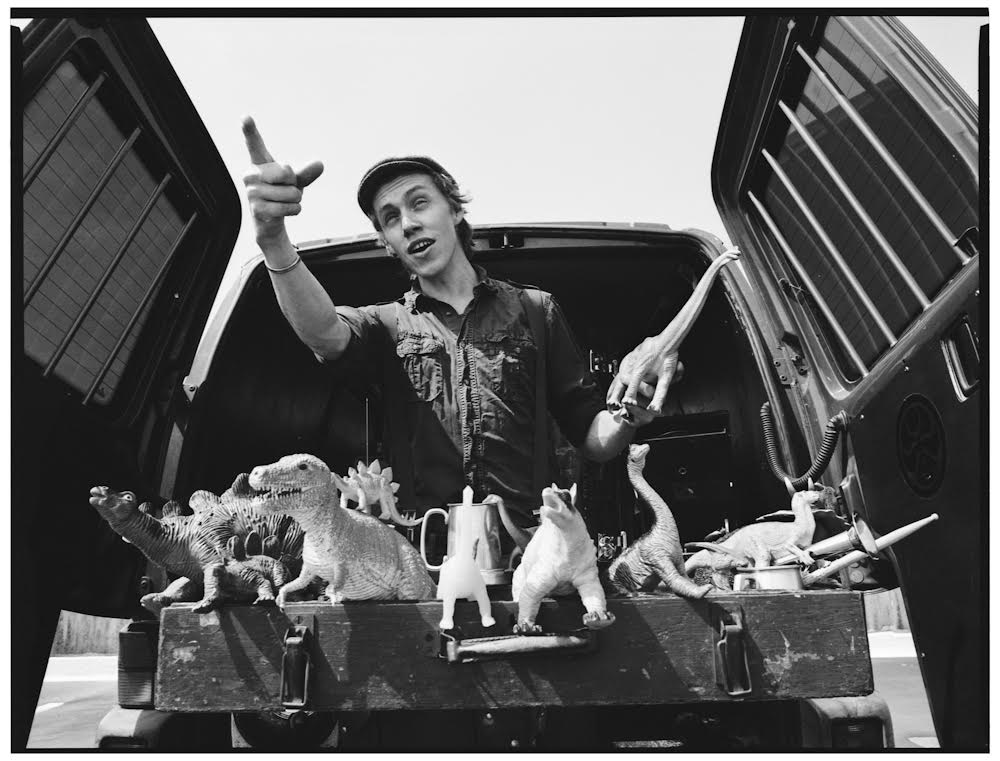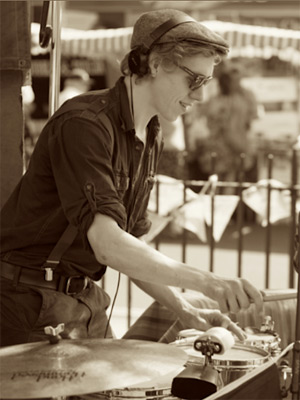 About Tom
DJ-ing for over twenty years, Tom has toured from Southampton to New Zealand and many roads between. A feature that has stuck right from the beginning is the use of live percussion – adding an expressive, improvised and 'live and organic' feeling to the show.
He has been involved in music since his Dad bought him his first guitar at the age of 11. Since then Tom has toured UK, USA, New Zealand and Europe both as a Still-Moving DJ and Reggae, Ska and Dub artist The Uplifter (founded in 2003) which has led to a vinyl release and being well known for performing Reggae, Dub and Ska DJing with live Percussion.
Tom is also well known for his dinosaur collection, which make a regular appearance spinning on record decks at shows! He also loves skateboarding, theatre, swimming, camping, travelling, live music, nutella, history, has a pet cat Sasha (whose fluff often makes an appearance on our kit bags!) and a bearded dragon (the closest thing he could find to a real dinosaur!)…. and LOVES coffee ☕
How to book Tom
Stage 1 – Booking Deposit
Once we've confirmed our availability and what option you require, please pay half the total (excluding expenses) as deposit.
Once payment is received I will email you with an official booking confirmation / receipt. (Full payment at this time is also accepted, as some clients prefer to have everything done and dusted early.)
Please note, it is not an official booking until we have received the deposit or full payment (the date will still available to others while unpaid).
In some cases we may ask for a full payment up front, particularly with some corporate, last minute or international bookings.
Deposit payments are non-returnable.
We always honour a booking and never accept 'buy out' offers (we have a good
reputation and wish to keep it!)
Stage 2 – Final Payment
Please pay the final half the total plus expenses 1 week or more before the event (We'll send a reminder along with a final confirmation of all details just in case there are any changes).
We always stick to the agreed price from the time of deposit payment.  The only reason the price may alter is if a detail (such as location) is changed, and in which case we'll inform you of this (we don't believe in hidden surprises / reputation to keep up etc!)

Price details for Tom
Booking (including full drum kit setup) between 7.30pm and Midnight: £500
Supply of full DJ sound system (2x record decks, 2x CDJ, Mixer, Amps, speakers and mics): £200
Travel: 45p per mile return journey for bookings outside Southampton, plus expenses such as parking/ road tolls/ congestion etc.
Accommodation: Will be required for longer distance travel (please contact me for details)
Additional time before 7:30pm/after midnight: £50.00 per hour
Percussion: comes as standard part of the performance with Tom's performance
Projections: Optional (please contact me for details / prices)
London: Shows in central London – additional fee: £350
Deposit and Payment details:
Bank: Halifax
Name: Mr Thomas Earwaker
Sort Code: 11-01-75
Account Number: 00219222
Reference: "your name + date of event" (Example "YourName100517")
*Please note: A booking will only be official, and the date secured for you once we have received the full deposit payment. Until then the date is still available for others. (in other words – if you want us please don't hesitate… we don't want you disappointed if you find someone else has grabbed us!)
*For booking deposit payments, please check that we're still available before making a payment.
For any further information please contact Tom on tom@still-moving.co.uk / 0774 101 3665
Cancellations & Terms
Please note that in the event of a cancellation from a client, as with any supplier, the booking deposit is non-returnable. We recommend taking out an event insurance policy that will cover all your payments to all suppliers.
There may be circumstances that are beyond your control and your date may need to be changed. If this is the case we will try our best to help, subject to availability. Please contact Tom as soon as possible because we are more likely to be able to help if you give us plenty of notice.